your attendees are 6 x more likely to remember facts
…if there are visual sketch notes happening while they listen.
graphic recording for workshops, conferences,
events & meetings.
My super power = creating fast, dynamic illustrations that boost engagement and make learning (and remembering) easy and fun.
your visual communication in safe hands
I've been scribing for top institutions since completing my Masters degree in illustration from Edinburgh College of Art.
Almost 10 years in the industry: illustrating professionally since 2010.
Sustainability and an environmental conscience
I'm all about using my illustrative powers for good. Ethical, environmental projects YES PLEASE.
Scribing
Scribing, visual scribing, graphic recording, whateveryawannacallit, having visual notes happen while you discuss ideas is the most instantaneous and creative way to record your ideas and keep everybody in the meeting or conference engaged.
Traditional vs Digital scribing
Old school pencil and paper can work just as well as digital illustration. Above is an example of traditional (left - yellow and grey) and digital (black).
What is going to work best for your event or workshop?
Do you want everyone to watch the scribing happening? Traditional drawing with pen and paper is attention grabbing.
Want all eyes on your keynote speaker while the scribe working subtly? I can scribe from the audience, quietly beavering away on my iPad to record all of the nuggets of information being delivered. Nobody will know i'm there until they receive an amazing after-event pack full of illustrated goodness.
Having a live link from iPad to big screen is a wonderful way to combine the two.
ALL HAIL TECHNOLOGY.
Recording Your Ideas
What is Graphic Recording?
Graphic recording is also known as scribing. It's the live drawing of a meeting or event by me, the scribe. As people discuss and explain, I capture their ideas digitally using my iPad, or on large pieces of paper (or one very large roll of paper!) bringing together the essential elements of the event. As you can imagine, this is a great way to disseminate the outcome of a meeting after the event has happened.

Previous clients have decorated their office with my illustrations after the event, as well as using digital copies of the drawings in reports sent to delegates after the event.
Colour Palettes
Graphic recording can be personalised to your organisation/brand. The illustrations above were created in brand guideline colours. Photographers require a photograph permission form, but graphic recorders do not.
Less paperwork.
More fun, creativity and learning.
The mobile garden "The Barrow", a picnic day out to the park and teaching the community how to fertilise chilli plants and create their own pesto were just some of the events I was lucky enough to graphic record.
Worried about boring your funders to tears? Give them the gift of art! I'd much rather read a report with colourful rich illustrations than a hefty wordy document any day.
Give your report-readers a break with some bright images to lighten the text load.
Who can use graphic recording?
Graphic recording works really well for everyone. Businesses, brands and organisations spend a lot of effort running meetings and events. Graphic recording can give an extra, exciting and innovative visual element, bringing the whole thing to life, and creating a lasting visual record. In educational settings, live illustration and graphic recording is especially useful for capturing large amounts of information visually.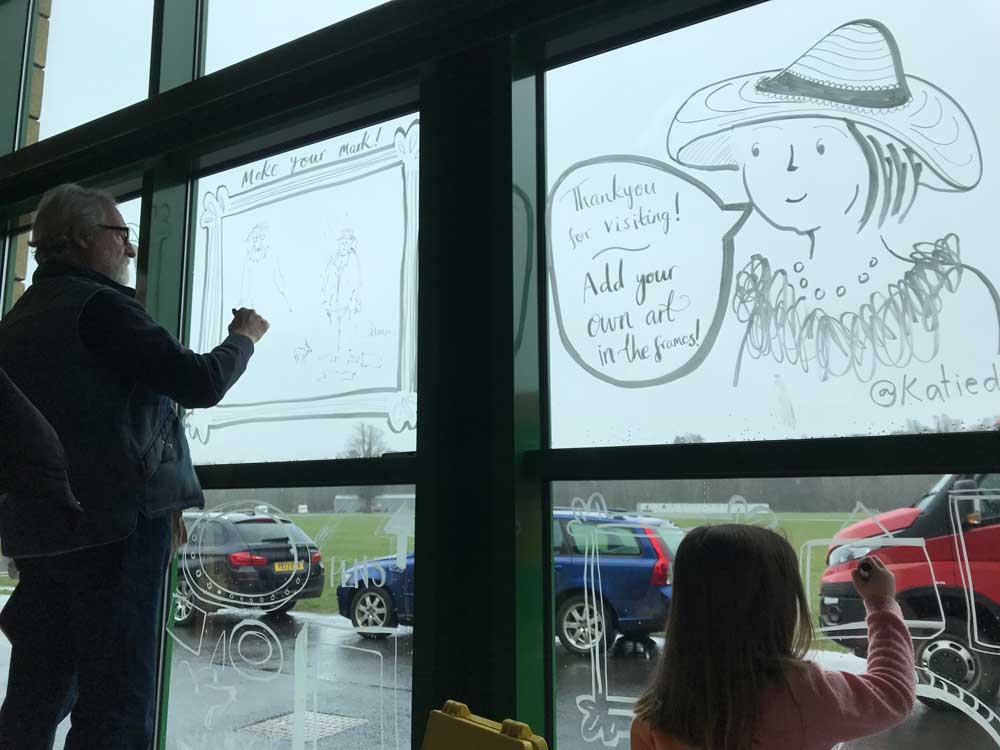 Live illustrations from Borders Art Fair. I worked in colours from their logo, and images were shared on social media.
Choosing a Scribe
I don't work with everyone! I'm picky when it comes to live illustration and I know you will be too. I specialise in using my illustrative powers to highlight sustainability, eco-friendliness, social, art and environmental issues.
Please get in touch to discuss your requirements and see whether we'd be a good fit.
Capturing ideas quickly, I pride myself on incorporating participants' contributions, and providing my clients with useful, visually-pleasing images (that work seamlessly with branding guidelines) that can be used again and again after the event is over. Some of my previous clients have framed their live illustrations or used the images in leaflets and publicity. *With my prior permission and a licensing agreement.
Communicate Effectively
Having a scribe or a live illustrator at your event can help ensure that workshop and meeting participants feel heard and valued. You can communicate your companies values, goals and future plans and record history.
Want to discuss and come up with some ideas?
See below for more examples of what I could do for you and your business.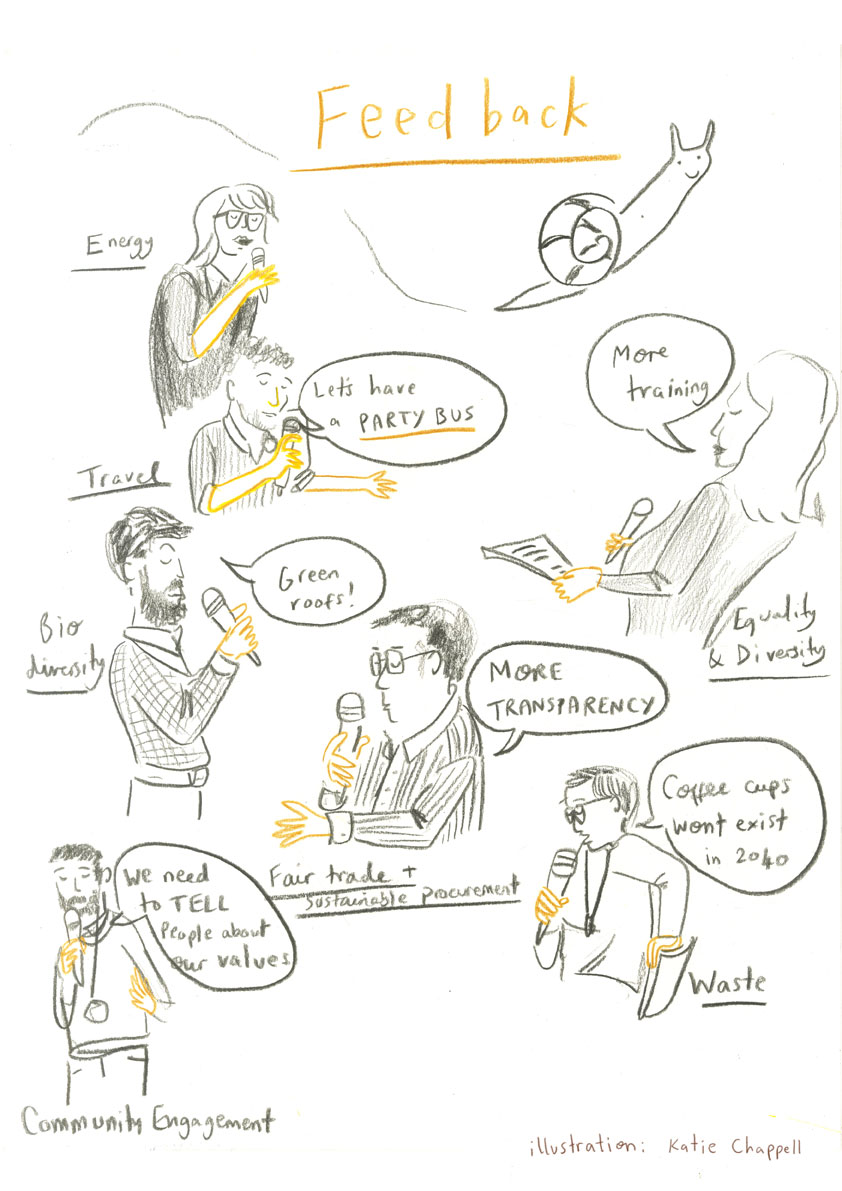 Going Digital - iPad Live event Illustration and graphic recording
For the BIG Creative Teachers' Event 2019 (images below), my iPad was hooked up to a large screen, and attendees were able to see drawings taking shape in real time.
iPad Live Event Illustration
I was able to drop in on different workshops, and know that everyone in the foyer was seeing the illustrations happen while I reported live. We used Apple TV technology to link the iPad and the TV screen, and a strong WiFi connection. While i'm not a technological superstar, I am able to give some guidance on setting up iPad connections for event illustration.
Visualisation
Storyboarding for advertising campaigns.
Why use Live Illustration or Graphic Recording?
People think visually!
60-65% of the population are visual learners.
Audiences and workshop participants respond really well to a tangible visualisation of the event they're attending. It's even more exciting to see your own ideas contribute in real-time to this. Seeing ideas appear on the page can encourage more people to participate in discussions taking place.
Images are easily shared on social media, hashtags can be introduced, and people love to watch art happen before their eyes.
To book some graphic recording for your workshop or meeting, do get in touch for a quote.
I also offer online graphic recording sessions, and can scribe remotely.